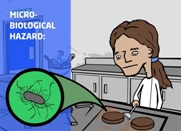 Some popular questions answered…
I often get asked "Is your food safety course right for me?" or "What does level 2 mean?"
Confusion lies in the fact that some people look for a food hygiene course, some look for a food safety course and many refer to the course as health and hygiene. In essence, if you're working with food then you need to be starting your training at Food Safety Level 2.
"So what makes it 'Level 2′?"
The Royal Society for Public Health and the Chartered Institute of Environmental Health publish detailed guidelines for what should be included in courses set at a particular level. The Esky online food safety course is built on the syllabus for Level 2, which is seen to be the basic level for food handlers.
"What happened to Level 1?"
Our course was named 'Level 1′ until around 3 or 4 years ago when the then Royal Institute of Public Health changed their syllabus. Our course was updated with new sections on allergens for example, plus updates to smoking laws and cooking temperatures and became 'level 2′ in line with the industry guidelines. A level 1 does exist and acts as an induction level aimed at people not directly cooking or handling food such as waiting staff. Esky has developed an induction course for this purpose which you can find out about by contacting us.

"Can I do Level 2 if I haven't done Level 1?"
Yes, there are no entry level requirements for Level 2. If you're working with food you need Level 2.
"How can I take a basic food hygiene course with Esky?"
It's simple – go to our buying page, select the course you'd like and follow the step by step set up process. It will only take a few minutes and you can start your course straight away or at a later date when you're ready. If you haven't got a credit or debit card contact us to order.
If you have questions about any of our courses please get in touch and we will be happy to help.
Lauren@Esky
This blog is brought to you by
Esky e-learning