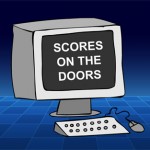 If you are a food business you may be aware of 'Scores on the Doors'; a Government scheme that provides consumers with the results of hygiene inspections carried out by local authorities.
According to the Food Standards Agency, the 'primary purpose of these Scores on the Doors schemes is to empower consumers so that they make more informed choices about the places from which they purchase food'.
iPhone users now find it even easier to check local food establishment rating with the new Scores on the Doors app which I talked about in my last blog entry.
The three main areas covered by the inspections are confidence in management, structural compliance, and hygiene, cleanliness and safety compliance.
By training staff in Food Safety Level 2 you are equipping them with the knowledge to prevent foodborne illnesses and to maintain a clean, safe environment around food.
Staff should also have a basic knowledge of general Health & Safety in the Workplace to know how to prevent hazards and accidents.
Certificates for all Esky courses can be printed once each trainee has completed the course and passed the assessment. Certificates can then be displayed in your workplace and shown at inspections.

Esky courses are audited by independent Environmental Health Officers to ensure compliance with the latest legislation.
By keeping records of regular training you will have proof of safety compliance and the knowledge that your staff are working safely around food and reducing risk to your customers and reputation.
You will also needs to follow a food safety management system such as Safer Food, Better Business which is a way of keeping records of risk assessments, changes in the workplace and training.
It is also a good idea to have a Health & Safety Policy Statement if you do not already have one. The HSE provide a template which can be found here: http://www.hse.gov.uk/business/policy-statement.pdf
These are some basic ways to improve or maintain a scores on the doors rating.
This blog is brought to you by
Esky e-learning